Once again, Timber Block has taken a step further in its commitment to its homeowners. Timber Block has announced the Mike Holmes Inspection Program will be integrated into every manufactured Timber Block home. This is another game-changer for the housing industry as it signifies the level of quality in each and every Timber Block home constructed, regardless of size, style, location and more. Get a free download of the program below.
The benefits of the Mike Holmes Inspection Program
The program includes 2 additional quality assurance reports, signifying the home is of the highest quality. These reports will help homeowners to have more control over their home building project.
The certification includes 3 steps:
Step 1: FACTORY PRODUCT INSPECTION
There are several points that need to met in order to pass inspection according to this program. These are very carefully studied, and will only pass once the highest grades are achieved. This is an important step in the inspection process, as the homeowner is guaranteed all facets of the factory related process has been approved to the highest standards of the Mike Holmes Inspection Program.
Step 2: ON-SITE PRE-DRYWALL INSPECTION
An approved Mike Holmes Inspector will confirm the structural framing and all Timber Block products are in order, including the building envelope, all exterior trims, all structural elements and all weather proofing is complete.
Step 3: ON-SITE ENERGY EFFICIENCY INSPECTION
An approved Mike Holmes Inspector will validate the level of energy efficiency in the home. This will be a close look at the insulation and vapor barrier, the sealing of the building envelope, the installation of the window and will complete a blower door test.
Once the inspections are completed, a report will be given to both the Timber Block Project Manager and homeowner, with the Project Manager reviewing the findings with the client and the Builder or General Contractor.
Overall, having an extra, 3rd party inspection, conducted by well-respected, highly-qualified inspectors is something that Timber Block feels is important to provide to our clients, as we want each and every homeowner feel confident they have built their dream home to last.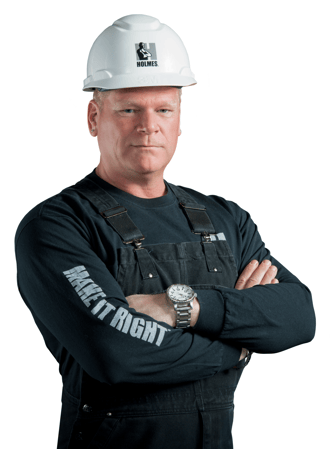 DOWNLOAD A FREE COPY OF THE MIKE HOLMES INSPECTION PROGRAM!
Timber Block's Integration of the Mike Holmes Inspection Program is the next step in the Partnership between Timber Block and Mike Holmes. The partnership - established in 2017 - was a natural fit, as the Holmes Group and Timber Block share the same values, goals and dedication to building the highest quality of homes.
Timber Block is proud to be a Holmes Approved Product, Holmes Approved Builder and Holmes Approved Home.