Timber Block's Sanford from the Contemporary Series has been named "Home of the Month". It's no surprise this home is featured, considering it meets every standard of Contemporary design, but with a plan and curb appeal that is completely unique.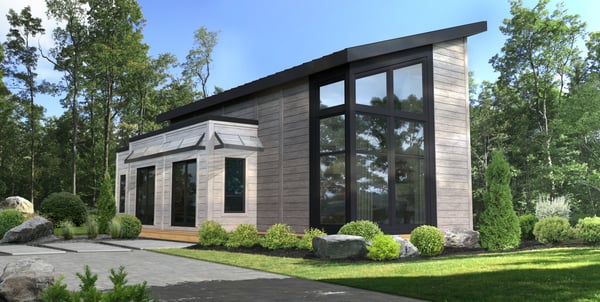 The Sanford is 1149 square feet, has one bedroom, 2.5 bathrooms, a generous kitchen, open to a dining area and living room. It also has an extended space, which could open to outdoor living space - another common feature found in Contemporary homes.
Starting with the main floor: The master bedroom is over 12x12, with a full bath and closet. The kitchen area is also substantial, with a large, multifunctional kitchen island with a table end for larger families or entertaining. Also off the kitchen/dining area are the openings to the outdoors, leading to a fantastic outdoor living space. The kitchen area extends to a practical living area. The second floor is loft-style, and includes a full bath, and plenty of room to add a bed for family or guests, or to use as a recreational area.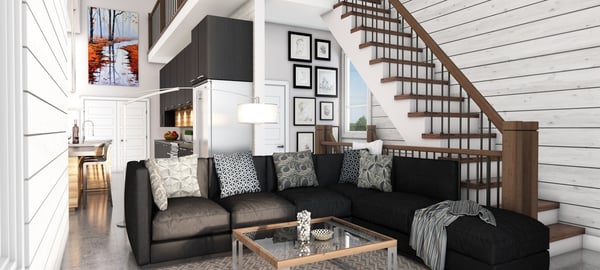 The Sanford exterior
The exterior design of the Sanford is completely eye-catching. A slanted roof and floor to ceiling windows allows for the best view...no matter where you are in the home.
The technology
The Sanford is constructed using Timber Block's innovative panelized system building process. This advanced process allows homeowners to modify any floor plan or build a full custom home, while maintaining every bit of efficiency. R-30 wall insulation is standard in every Timber Block home, which features a proprietary insulation co-developed with BASF. R-36 is also an option.
Some people have asked us if our homes are constructed using SIPS (Structural Insulated Panel). Our walls are not SIP, but can be looked at more like an advancement of SIP construction.
Timber Block is proud to be environmentally-friendly. We go to extended lengths to use recycled materials and maintain less waste.
Learn more about the Timber Block advantage. Download our FREE Advantage Article below.
See the complete Sanford floor plan, and tell us what you think! Visit us on Facebook, Instagram or Pinterest!