Whether you're in the very early stages of your journey to your dream home, in the design phase, or halfway through construction, your interior is going to finalize your project, and officially turn your dream into a reality.
The way you design and furnish your interior is extremely important, because it tells YOUR story. What suits your taste and style may be completely different from someone else's.
This is why we love to show you interiors from all of our series, of all shapes and sizes!
Here are a few of our interiors from our collection of homes: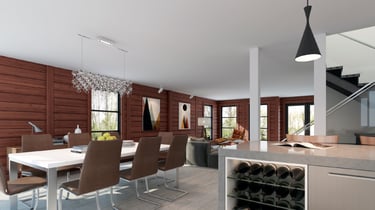 From our Contemporary Series, this interior is from our Bellevue model. A flat surface, stained a darker color, mixed with light grey and white finishings is very modern for today's contemporary homeowner.
Click here to view our Bellevue Floor Plan.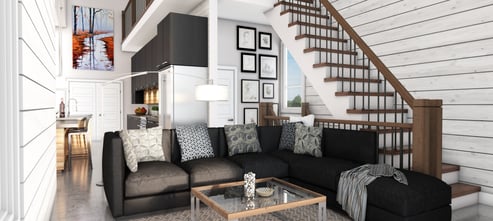 Also from our Contemporary Collection, here's a good look inside our Sanford.
The Sanford is 1149 square feet, and is one of our most unique designs in the series.
See the Sanford Floor Plan here.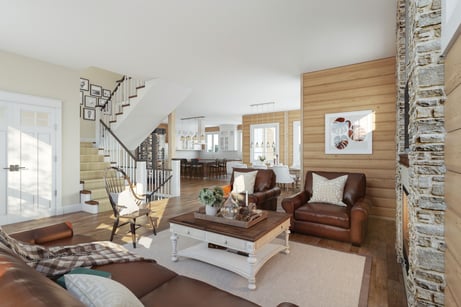 Ah, our Craftsman Series. The architecture and design that goes into a Craftsman almost always results in a comfortable and cozy, yet functional and practical home.
This is from our Everest.
See Timber Block's Everest Floor Plan here.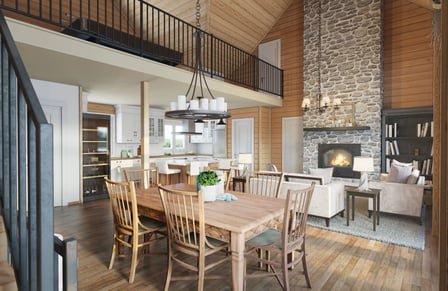 Mixed materials is a staple of Craftsman design. Our Olympia is a perfect example of it.

Get the Olympia Floor Plan here.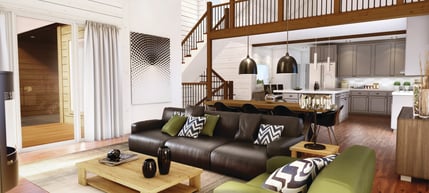 Our Stockholm model. While this home comes from our Classic Series, it has a more modern feel with flat profile, painted in light colors, darker wooden floors and colorful accent pieces. The open concept with loft open to below stays true to the classic design.
See our Stockholm Floor Plan here.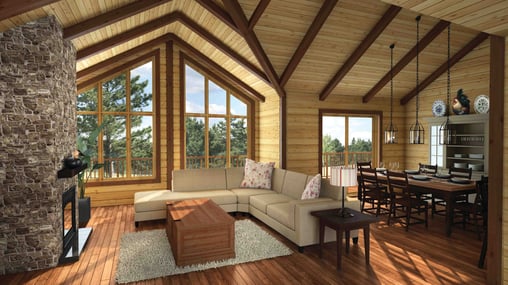 Our Newton model from the Classic Collection is one of the most popular designs in the series. Cathedral ceilings and angular design, mixed in with wall to ceiling windows and open plan are certainly common factors in the Classic home. The fact this is a one-level home is also very appealing to some homeowners.
See the Newton Floor Plan here.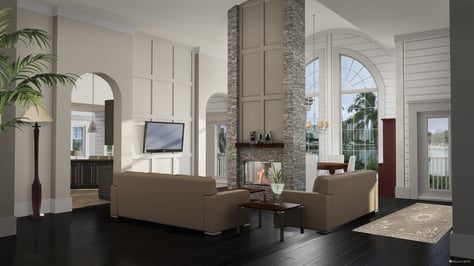 And from our beautiful, elegant Vintage series, here's what we've done with our Alexandria interior. A double-sided fireplace is a focal point in this home, rounded windows and walls, dark floors, lighter walls and mixed materials...they all add up to a home anyone could be proud of.
See our Alexandria Floor Plan here.
These are just a few of Timber Block's interior designs. Our hundreds of homeowners have all designed their interiors to suit their tastes. You can see several photos of completed homes in the Timber Block Photo Gallery.
Have questions? We're here to help. Contact us anytime or visit a Timber Block location near you.