We're excited to share more info about our beautiful Sales Center in Mirabel, Quebec. This location features 2 model homes: A Denver from the Classic Series and a Sonoma from our Contemporary Collection. The homes aren't hard to find, considering they sit near Highway 15, north of Monrtreal.
Today, we're shining the light on the Sonoma at this location!
Please note: Our model home locations do remain closed, however construction continues as normal, and our production facility has re-opened. However, our Home Consultants, Project Managers and other staff are available by phone and email, and can set up virtual meetings via Zoom or Facetime if requested or needed.
This Sonoma is a fabulous home from the Contemporary Series. (And it has a neat story! Read on!) The minute the first Sonoma was shown, it instantly became a top seller. It's 1917 square feet, has 3 bedrooms and 15 foot ceilings in the living area. Every inch of the main floor is optimized, creating an open, airy and welcoming feel. It has everything you're looking for in a contemporary style home, such as the flat roof, the abundance of windows, the open plan and the expansive outdoor living space. (The Sonoma floor plan includes an additional 240 square feet of outdoor living space.)
There is something else that makes the Sonoma at our Mirable location extra special: The model you see in Mirabel was actually initially constructed inside the Olympic Stadium in Montreal! It was set up at one of the province's largest home shows, and people were elated! In fact, there were times during the show, there were long line ups of people to walk through our beautiful Sonoma. The panels were then taken down and the home was transported and reconstructed at the Mirabel location.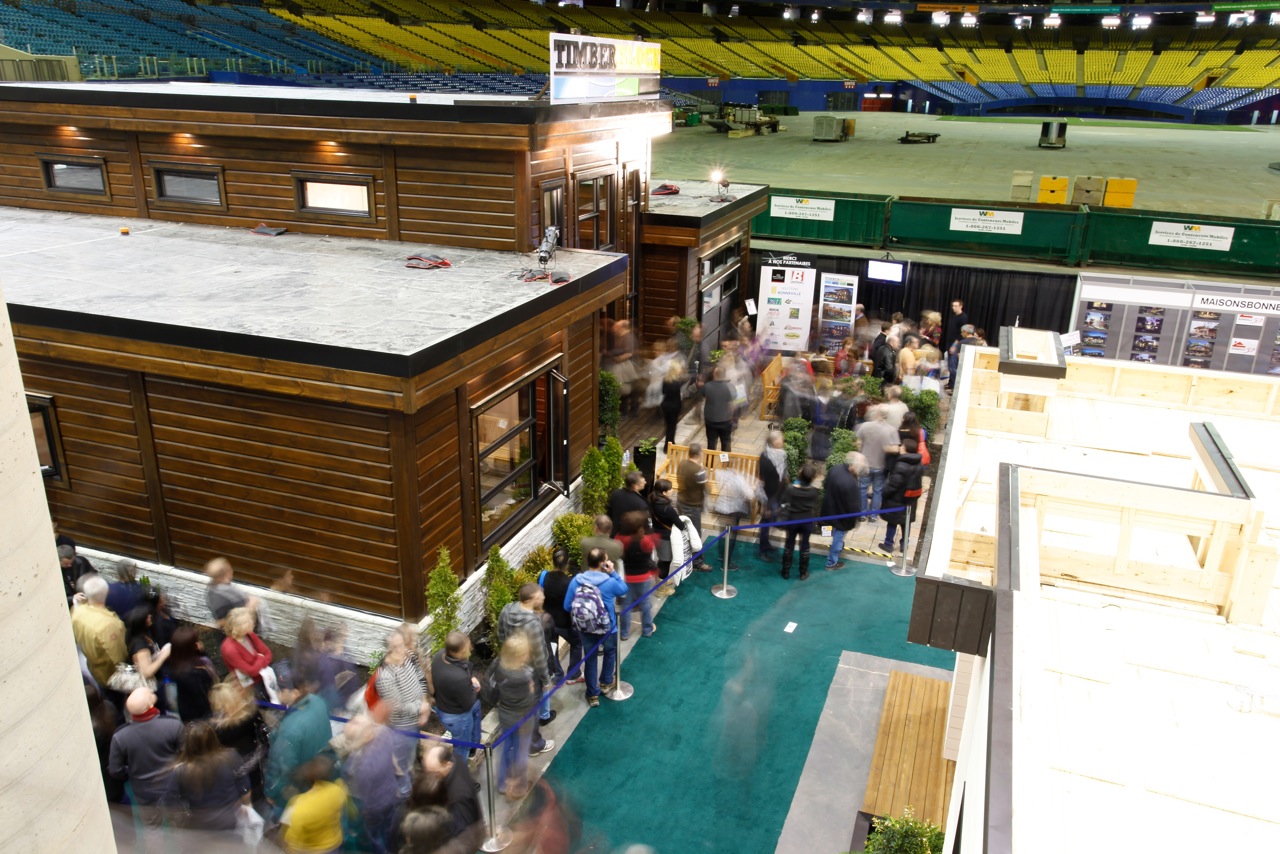 To see more of the exterior, the interior, the details and the complete floor plan, plus more information about this location, we're offering a free download of Mirabel's Sonoma worksheet. Download it now below!
To get a quote on your very own Sonoma, or any of our homes, or if you have any questions at all about Timber Block, our technology, materials or process, please email us at info@timberblock.com.