As we honor the brave women and men who made the ultimate sacrifice for our freedom, many people will do so by spending the day with family. By tradition, barbecues and cookouts are common practice. Today, we're posting some of our staff's favorite Memorial Day recipes.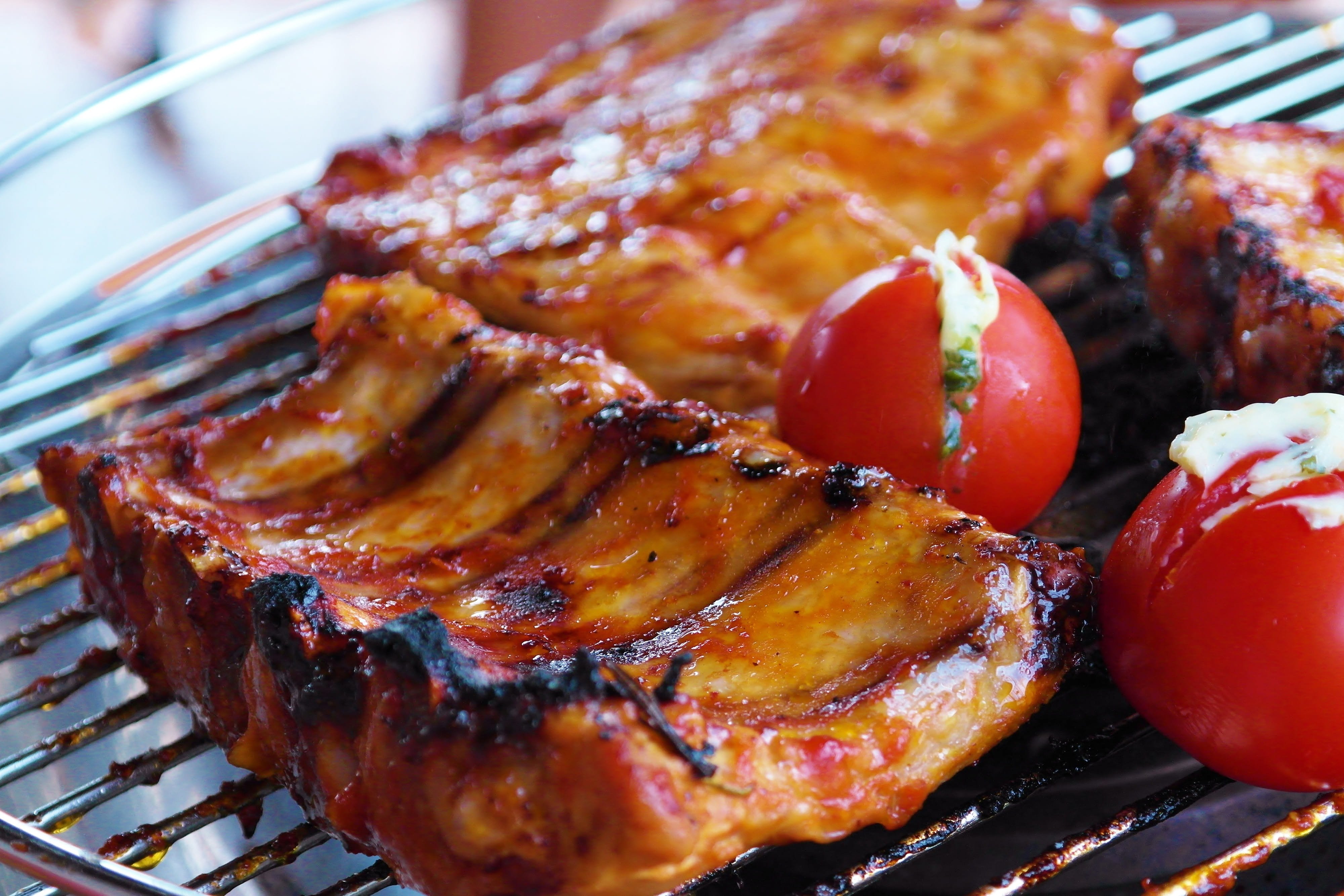 From Penny, this is an all day affair! However, the preparation is easy and the end result is scrumptious!
Sweet Cola Ribs
Ingredients:
Sweet Cola Barbecue Sauce:
1 tablespoon vegetable oil
1 medium onion, finely chopped
3 cloves garlic, finely chopped
2 cups ketchup
1 can cola
1/2 cup apple cider vinegar
2 tablespoons brown sugar
1/2 tablespoon fresh ground black pepper
1/2 tablespoon onion powder
1/2 tablespoon ground mustard
1/2 tablespoon lemon juice
1 tablespoon Worcestershire sauce
Dry Rub:
2 tablespoons salt
2 tablespoons brown sugar
2 teaspoons garlic powder
2 teaspoons onion powder
1 teaspoon ground cumin
1 teaspoon chili powder
1 teaspoon black pepper
2 racks pork spare ribs (about 3 pound each)
Preparation:
For the sauce:
In a medium saucepan, over medium heat, add oil. Once heated, add the onion and garlic and saute until tender. Add all the remaining sauce ingredients and bring to a boil. Reduce heat to a simmer and cook uncovered, stirring frequently, for 1 hour 15 minutes.
For the dry rub:
Whisk all dry ingredients together in a small bowl. This can be stored up to 6 months in an airtight container.
For the ribs:
Rinse and dry ribs. Place on a clean cutting board, pull off the membrane and trim the ribs of excess fat. Liberally season both sides of the ribs with rub. Wrap ribs with plastic wrap and refrigerate 4 to 12 hours so flavors can permeate.
Preheat grill to 250 degrees F. using hickory and charcoal. Set up your grill for indirect heat.
Place ribs, meatier side down, on the grill away from the coals. Close grill cover. Cook the pork ribs for 1 hour 15 minutes; flipping several times for even cook. *Coat ribs with Sweet Cola Barbecue Sauce and cook for another 20 minutes.
*Reserve some of the sauce for dipping when the ribs are served.
Recipe from Penny via www.foodnetwork.com!
And what about the sides? Curtis loves the Peanutty Coleslaw!
Ingredients:
1/2 cup chopped fresh cilantro
1/4 cup chopped green onions
3 tablespoons white vinegar
1 tablespoon sesame oil
2 tablespoons mayonnaise
1 teaspoon sugar
1 teaspoon grated fresh ginger
2 teaspoons wasabi paste
1/2 teaspoon salt
1/2 teaspoon pepper
1 (16-oz.) package shredded coleslaw mix
3/4 cup lightly salted peanuts
Preparation:
Whisk together first 10 ingredients in a large bowl; add coleslaw mix, stirring to coat. Cover and chill 1 hour; stir in peanuts just before serving.
Recipe from Curtis via Southern Living.
Smoked corn is another popular side dish for any cookout. Here's the way Romi does it....
Ingredients:
Hickory wood chips
1/2 cup butter, softened
2 tablespoons chopped fresh thyme
8 ears fresh corn with husks
Preparation:
Soak wood chips in water at least 30 minutes.
Prepare charcoal fire in smoker; let burn 15 to 20 minutes.
Stir together butter and thyme.
Remove heavy outer husks from corn; pull back inner husks. Remove and discard silks. Rub corn with butter mixture. Pull husks back over corn.
Drain chips, and place on coals. Place water pan in smoker; add water to depth of fill line. Place corn on upper food rack; cover with smoker lid.
Cook 30 to 40 minutes. Remove from smoker, and let stand 10 minutes. Pull husks back, and serve.
Thanks to Romi for the recipe, thanks to www.myrecipes.com
And for Dessert? We all think the American Flag Berry pie is cute as pie ;)
Ingredients:
Pastry for a double-crust pie (9 inches)
2-1/2 cups pitted dark sweet cherries
2-1/2 cups fresh blueberries
3/4 cup sugar
1/4 cup all-purpose flour
•1/2 teaspoon ground cinnamon
•1 tablespoon butter
•Additional sugar
Preparation:
Line a 9-in. pie plate with bottom crust; trim pastry even with edge. Set aside.
In a large bowl, gently combine cherries and blueberries. Combine the sugar, flour and cinnamon; stir into fruit. Let stand for 10 minutes. Pour into crust; dot with butter. Roll out remaining pastry into a 10-in. circle. Cut pastry in half. Cut one half into two wedges. Using a 1-in. star cookie cutter, cut out stars from one wedge. Place cutout pastry wedge over filling. Discard cutout stars.
Cut remaining pastry pieces into 1/2-in.-wide strips; position over filling to resemble a flag. Seal and flute edges. Sprinkle pastry with additional sugar. Cover edges with foil.
Bake at 425° for 15 minutes. Reduce heat to 350°; bake 35-40 minutes longer or until pastry is golden brown and filling is bubbly. Cool on a wire rack. Yield: 8 servings.
There you have it! This is what how many of our USA team members are spending this Memorial Day! Our North Carolina model home is closed today, but will re-open tomorrow. You can contact us via email anytime at info@timberblock.com.
To book an appointment with one of our Home Consultants, in person, online or over the phone (all locations) click below.