In a little Quebec town on a pristine lake, on a one-of-a-kind property, there's a customized Timber Block home that is truly a dream come true.
Mark and Craig spent years driving by a Timber Block Dakota model - , located at the Granby, Quebec sales center - each time thinking about how perfect that model would be to fulfill their dream to build their own lakefront cottage.
But first...the backstory.
Mark says for 9 years they shared a waterfront cottage with friends, and while they loved it, they knew one day they would want to either buy an existing cottage or build their own. "We called it our training cottage," says Mark. "We enjoyed that experience for several years. Then, when were ready to move toward the goal of having our own, we started looking for the best combination of either a cottage already constructed on a great piece of land, or go ahead and purchase our own land and build from scratch." Mark says they knew the Dakota - an A-frame style home - was exactly what they pictured as their dream home. "We were very specific on what requirements we needed to meet. We started the process of working with a real estate agent to find either an existing cottage on land that met those requirements, or finding the ideal land to build on." In the meantime, Mark and Craig made the turn off the highway and toured the inside of the Timber Block Dakota in Granby.
After going back and forth on whether to build or buy a cottage already constructed, they received a lead on a piece of land that was perfect. They bought the land and reengaged with Timber Block. Now they were full steam ahead in starting their new home building project and the journey began.
The Land
The land - while being the absolute ideal location - turned out to be a bit challenging. "It's on a hill with a gorgeous unobstructed view of the lake and mountains. Plus, it's the perfect spot to watch the sunset. However, the land was very complex. It was long and narrow, slanted from front to back and side to side, with rock underneath. It wasn't the easiest piece of property to build on," said Craig. This is when they met General Contractor David Montpetit from Groupe Desrochers-Montpetit Inc. "This was another winning moment in the process. David walked the land with us and was confident he was up for the task. He said he had built dozens of Timber Block homes on even more difficult pieces of land than ours. We took a risk that day, and based on David's confidence, we went ahead with the project. It turns out he was right."
The Design Process
After meeting several times with their Timber Block Home Consultant Elaine Fortin, their project then went into the design process. Project Manager Veronique Fournier said the land was certainly complicated. "We worked with a landscaping architect to coordinate everything from the landscaping and foundation heights to the position of the house, and more." She says working with Mark and Craig was fabulous. "They started with a Dakota model and together we modified the plans to make sure they got everything they wanted. They are wonderful people to know, and I'm grateful I had the chance to work with them on their special project."
The home
The home itself is a beauty. Modifications to their Dakota include an extension on one side that turned into a solarium, additional windows, a media and fitness room and a larger entrance. The master was moved to the top level which has plenty of space, a large master bath and walk-in closet. A carport was added as well.
Craig says they're happy with their choice to build a Timber Block home. "They have a great team and a great product. In fact, we are thrilled with the high quality of the home." Mark adds the design team played a big factor. "Annie (LeBlanc) and Veronique (Fournier) were especially helpful. We had a very specific design concept in mind, and the way they worked with us was fantastic. They took their time designing different variations of the floor plan, they worked with us virtually when needed, and they were very knowledgeable. They were quick to let us know when we had an idea, they knew whether it would work or not, or suggest changes that were better. They made the design process easy. It was a really good experience...thanks to them."
Both Mark and Craig said working with David Montpetit and the team at Groupe Desrochers-Montpetit Inc. was also a terrific experience. "We were astounded by the quality of connections between the contractors and Timber Block," says Mark. Craig adds choosing David Montpetit to be their General Contractor was as extremely important factor. "Timber Block introduced us to Group Desrochers-Montpetit Inc., who brought all the subcontractors seamlessly."
The home right now is in the construction phase. The windows are installed with the metal roofing next up. Stay posted, we will follow the project along with Craig and Mark, with additional photos to mark their special journey.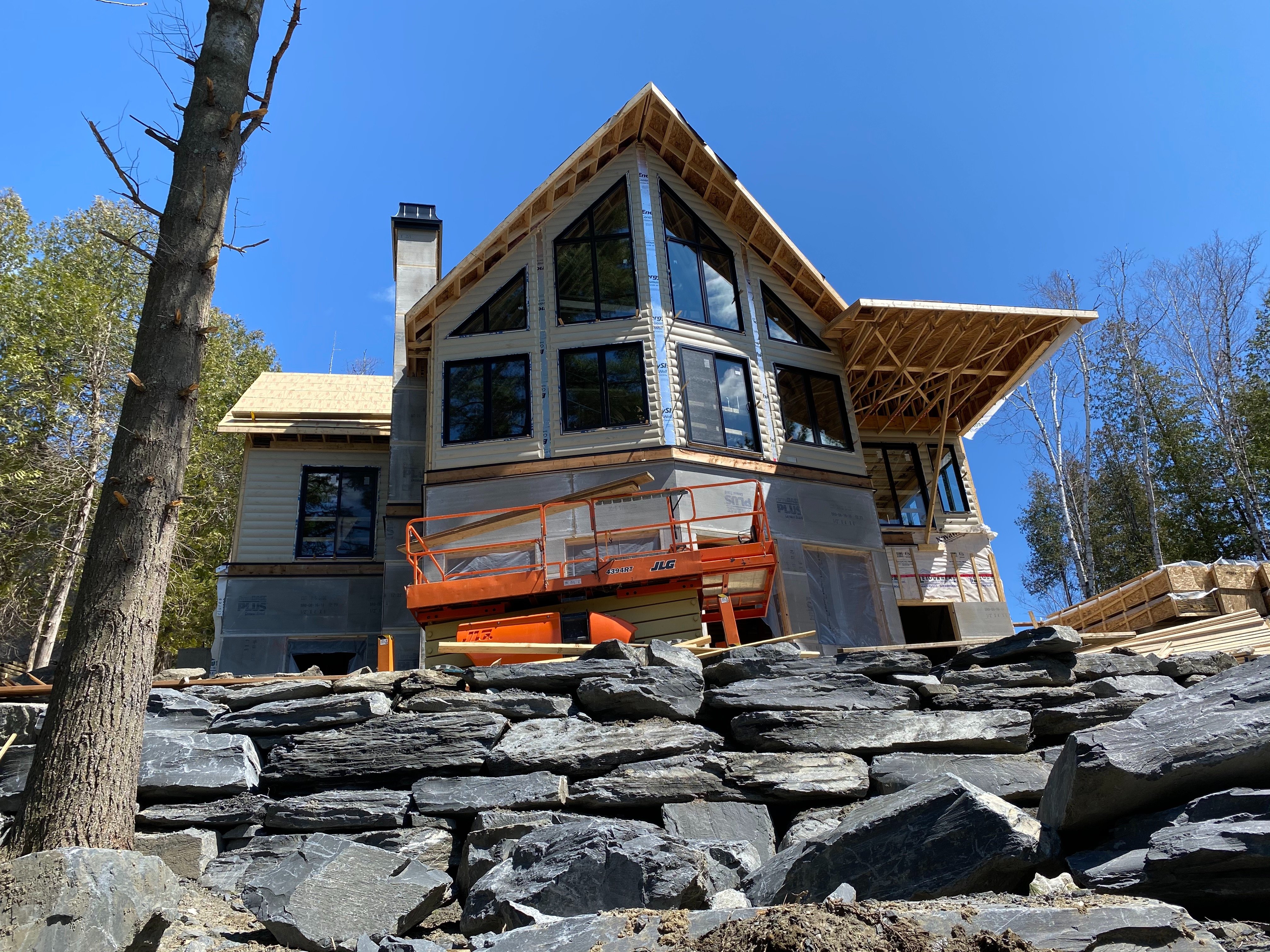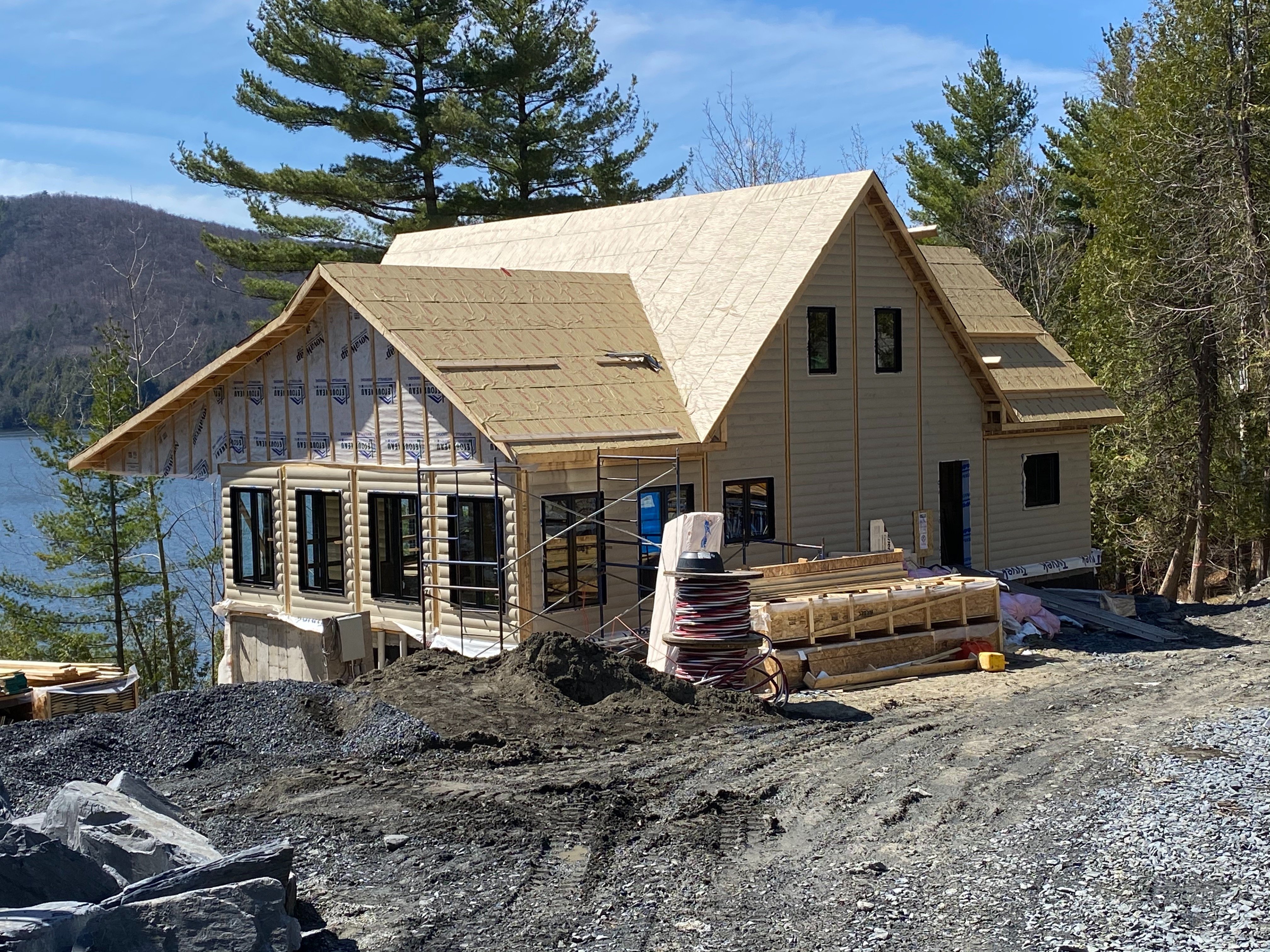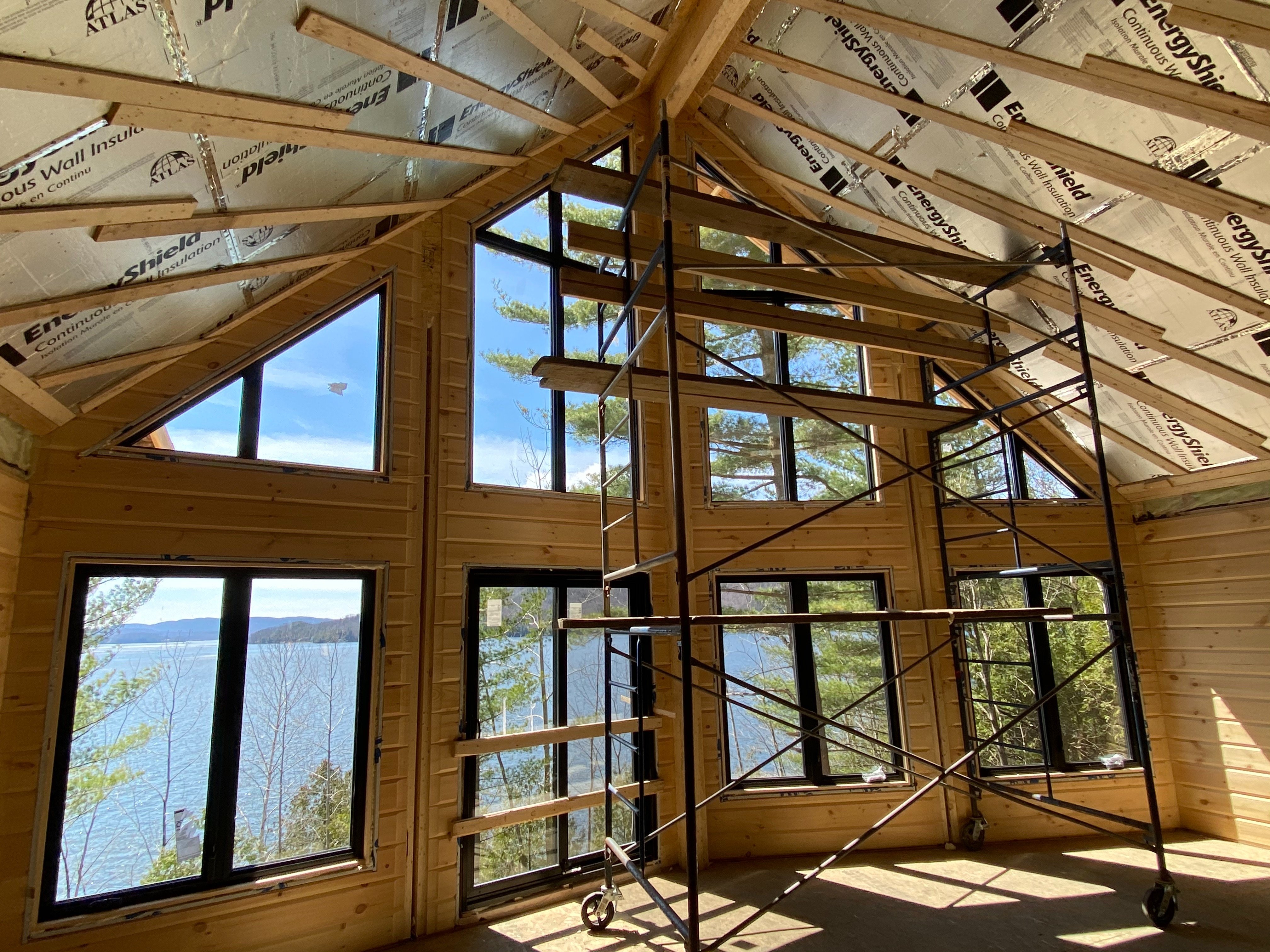 To find out more about Timber Block, you can contact us anytime at info@timberblock.com.
You can also see more photos, floor plans and more at www.timberblock.com.