Spring home show season is well underway, and is keeping us busy coast to coast. Right now, we're nearing the end of the National Home Show in Toronto. The 10-day show, held at Toronto's Enercare Centre is one of the biggest shows to kick off the spring season.
In the area? We're here until Sunday, booth S147. Stop in and visit us, and learn all about Timber Block, our partnership with Mike Holmes, and the Holmes Approved Homes Program.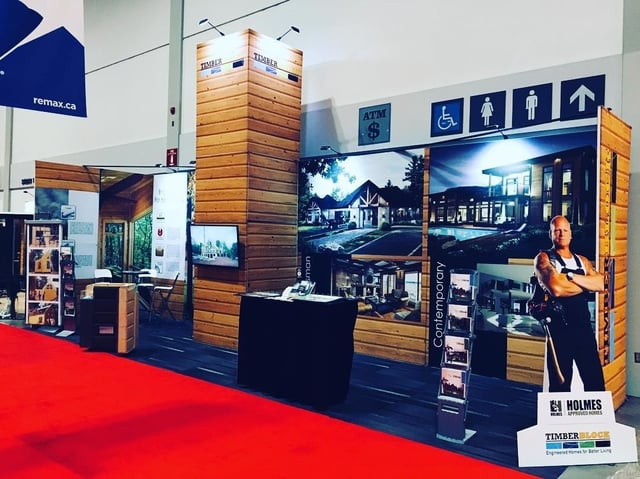 (Photo courtesy of Jason Kerwin at Timber Block Ontario)
Up next? The Spring Cottage Life Show, happening March 22-25 at the International Centre. Get more information, photos, show hours and more, visit Timber Block on Facebook.
Show highlights
More than ever, our visitors are showing an overwhelming interest in our Contemporary Home Designs. This series, launched several years ago, has always been popular among homeowners across the US and Canada, but has had a significant growth last year, and even more substantial this season. Here's a look at a few of our original models from the Contemporary Home Series, followed by some new additions. In addition, because of Timber Block's ability to customize, we have built dozens of home recently, which are full, complete custom designs.
The Pasadena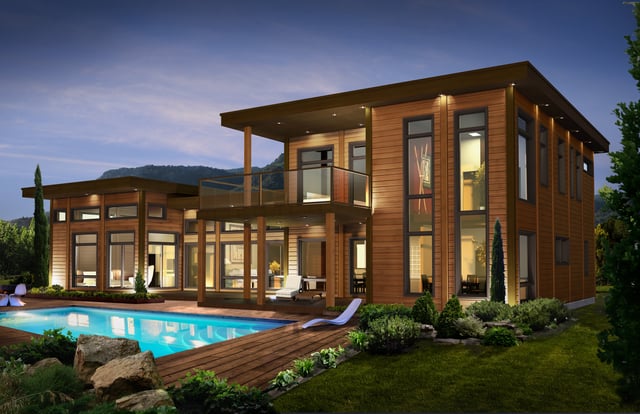 The Pasadena is one of our original additions to our Contemporary Series, and gained immediate popularity due to its magnificent curb appeal, and just as fantastic interior. This home is just over 3400 square feet. See inside the Pasadena, or download the floor plan for yourself.
The Arizona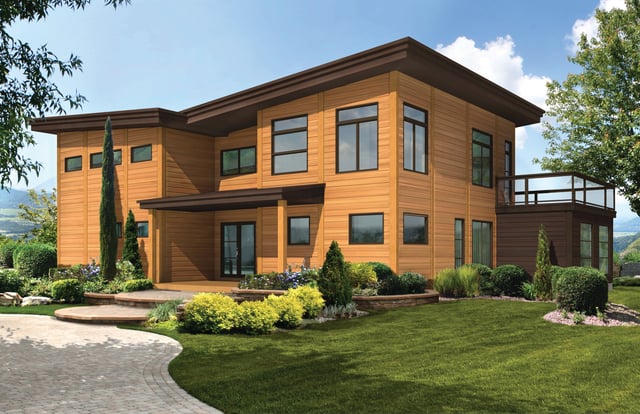 Also an original, the Arizona is known for its massive roomy, spacious interior design. It's just over 3500 square feet, has 3 bedrooms and is a true staple of a Contemporary design. Download the Arizona Contemporary Floor Plan today!
The Panorama
Easily one of our most exquisite Contemporary models, the Panorama is truly a dream come true. This is a must-see. The full description, photos and the floor plan can be found inside the contemporary floor plan tab of our site. Download the Panorama Contemporary Floor Plan free of charge.
The Vista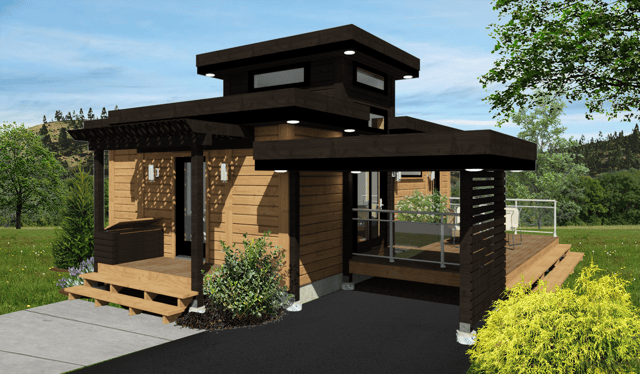 The very first "Tiny Home" to be added to our Contemporary Series! The Vista is so charming...at 553 square feet, this home skyrocketed to the top of the list for Favorite Tiny House Designs. See the Vista Tiny Home Floor Plan for yourself!
Timber Block Engineered Wood Homes is proud to design and deliver the most beautiful contemporary homes in North America, complete with the highest level of quality, energy efficiency and customer service.

See all of our floor plans, in all 4 series at www.timberblock.com.