Hands down, the kitchen is almost always the room that gets the most attention when designing a brand new home. This makes sense, considering it's the room that will most likely get the most traffic. Here's a checklist on what you need to consider when planning the perfect kitchen for you and your family.
The Open Concept
Last week, we talked with Timber Block Designer Josh Counter, who said combining rooms will continue to be something we'll see a lot of in 2020 and beyond. The open concept is a favorable choice because it makes entertaining a breeze. You feel closer to your family - whether they're relaxing in the living room or preparing a meal in the kitchen. The open floor plan - as you'll see below - is very common practice in a classic home, as many of the plans include floor to ceiling windows and are constructed with the view in mind.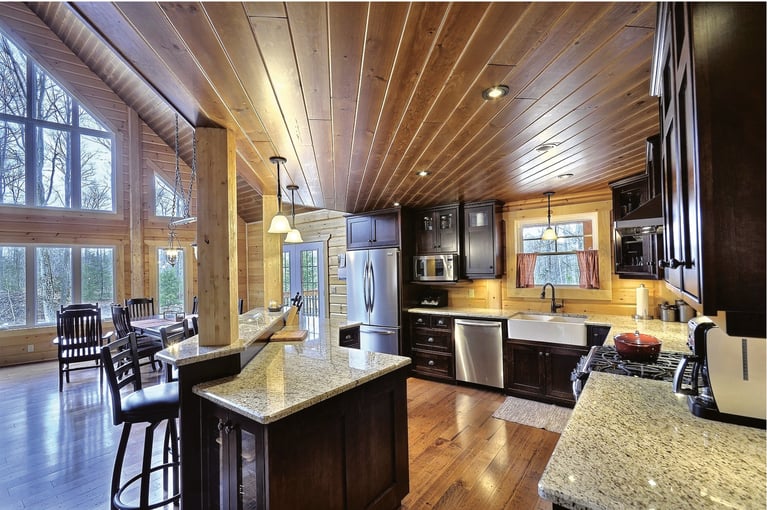 Cabinet Space
Everyone wants more cabinet space. Storage areas such as pantries and cupboards are a high priority for most homeowners. Sketching out your cabinets - including the dimensions - is the best thing you can do during the planning of your floor plan. Remember, it's a lot harder to add-on than it is to get it right the first time!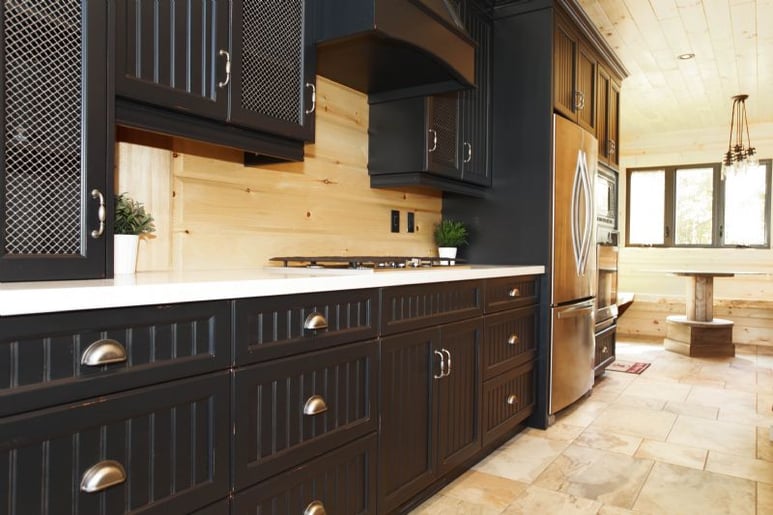 The Appliances - Size and Location
Where is your refrigerator going? Are you going to have double ovens? Do you want the microwave to take up cabinet space or include it in your island? The location of the dishwasher, along with any sinks should be drawn out, to make sure your refrigerator door isn't hitting a wall, or there isn't enough space for any other additional appliances you may want to have. Also: you want to make sure your fridge area is not only wide enough - but deep enough. Knowing size of the fridge you're going to install will allow your kitchen plans to include the absolute perfect space.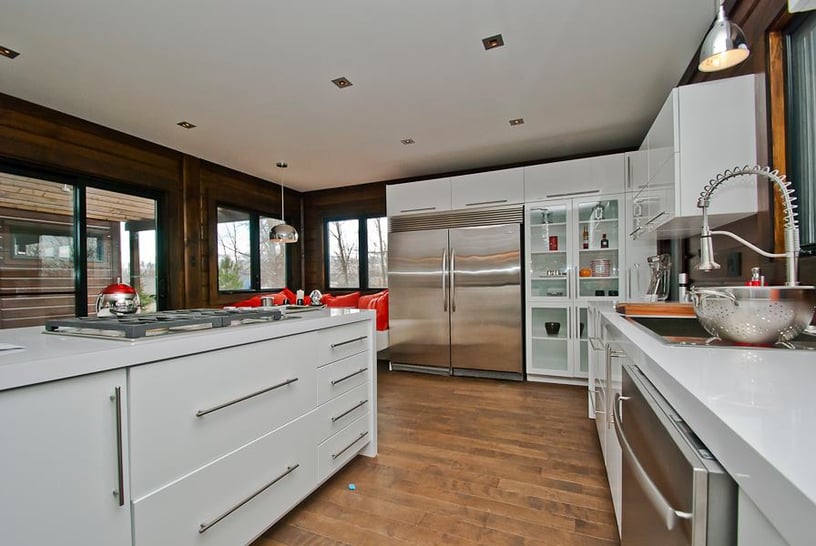 Breakfast bar, Islands and Overhangs?
Building a home with an island is almost a given in today's design practices. For many, the bigger the better - if the space allows. Kitchen islands have multiple functions - gathering, eating, prepping, entertaining, homework, and extra storage! Overhangs are something many choose to add. Making sure your breakfast bar includes an overhang provides plenty of extra leg room.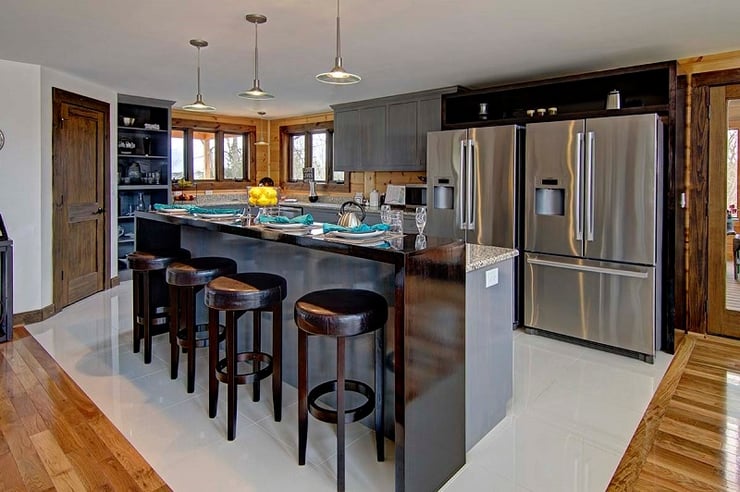 Lighting
Lighting is something you really should ponder. How bright do you want your kitchen to be? How much natural light will your kitchen get? And even then, what type of lighting do you need to install to ensure you have significant lighting in the evening? Under and over cabinet lighting is also popular among new home builders - not only does it bring extra light in, but it softens the room as well. Other factors to think of: Adding dimmers on your kitchen lighting will allow you to have complete control over the brightness.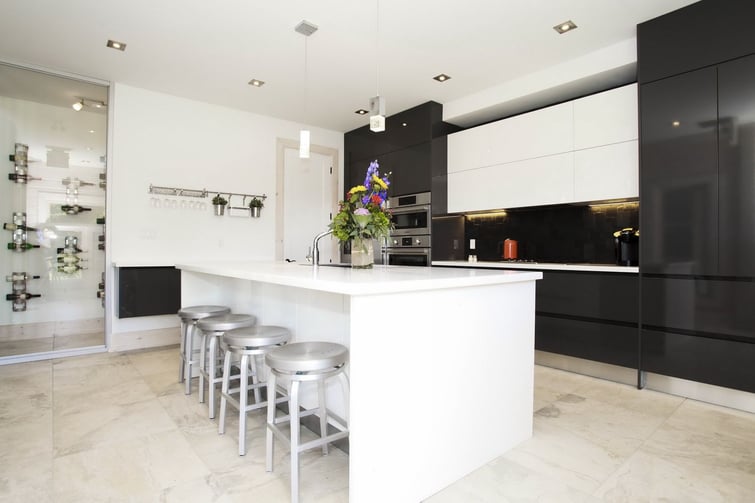 Counter Space - The In Between
Here's where taking the time to carefully draw out your kitchen is critical. If you're planning on building a smaller cottage-style home, you want to make sure you have enough space for comfort. Plus, this is also where your appliance location will come into play: you'll want to make sure you can open the oven/dishwasher/refrigerator door all the way, without any discomfort or awkwardness.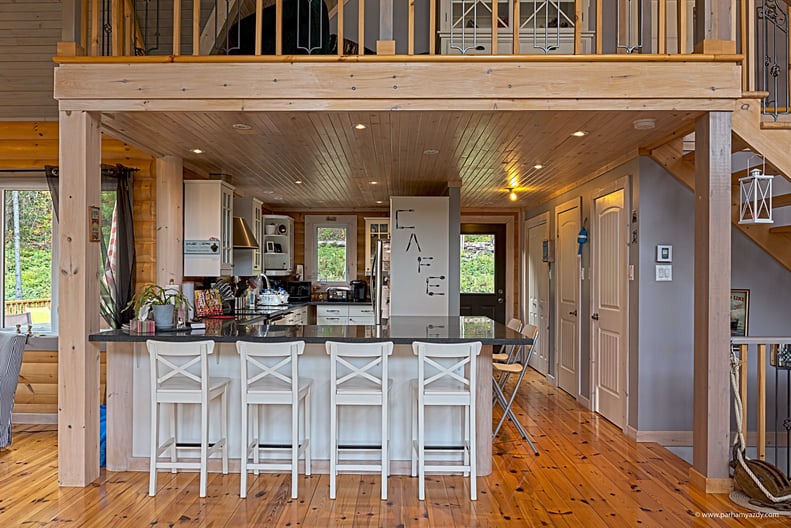 Style AND Functionality
You ABSOLUTELY can have both. That's the fun part! Taking plenty of time drawing out the footprint of your kitchen, and then choosing things like cabinets, flooring and countertops will ensure your kitchen is exactly what you want, reflects your personality and is functional - all at the same time.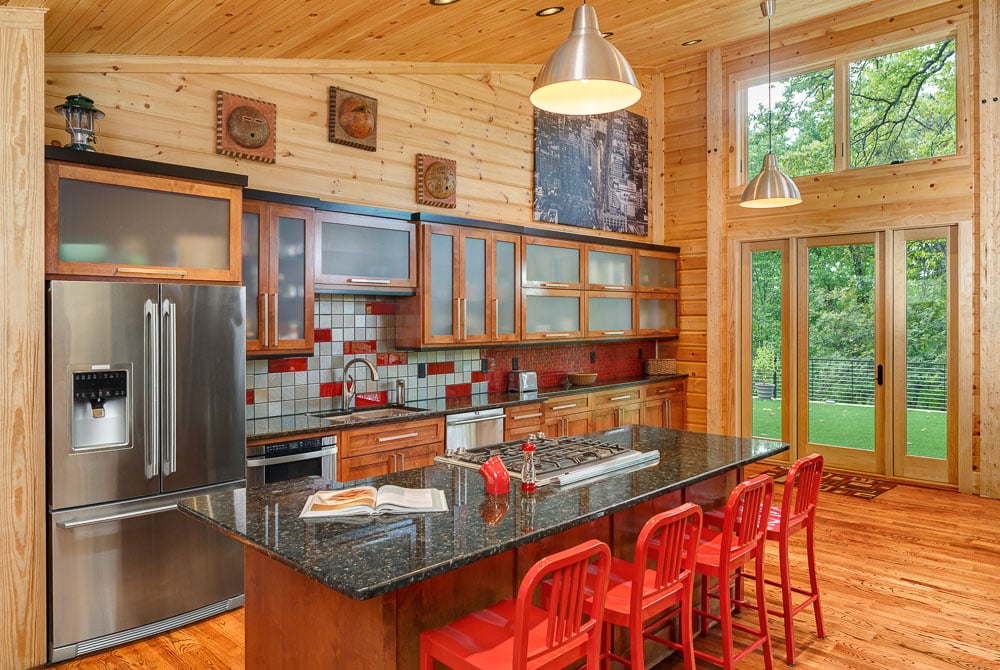 With Timber Block, we have an expansive team of designers who will help you along the way. Contact us, or see us in person! Click here to find a Timber Block location near you.