Today, we're showing you one of the Muskokas newest jewels...a brand new, fabulous, customized Timber Block Dakota.
To say we're proud of every inch of this home is an understatement. The Timber Block team on this project included some of our most talented and experienced members, including a Home Consultant, Project Manager, Designer, and team of builders.
From top to bottom, this entire project is a Timber Block turnkey. Working with the homeowner to ensure every request was checked off the list, the end result is stunning - a true dream come true.
What started as a Dakota - one of Timber Block's most popular designs, this home was modified, adding several unique and gorgeous features. Here are the top 25 photos of this brand new lakefront home - inside and out, and all around. Keep reading more details!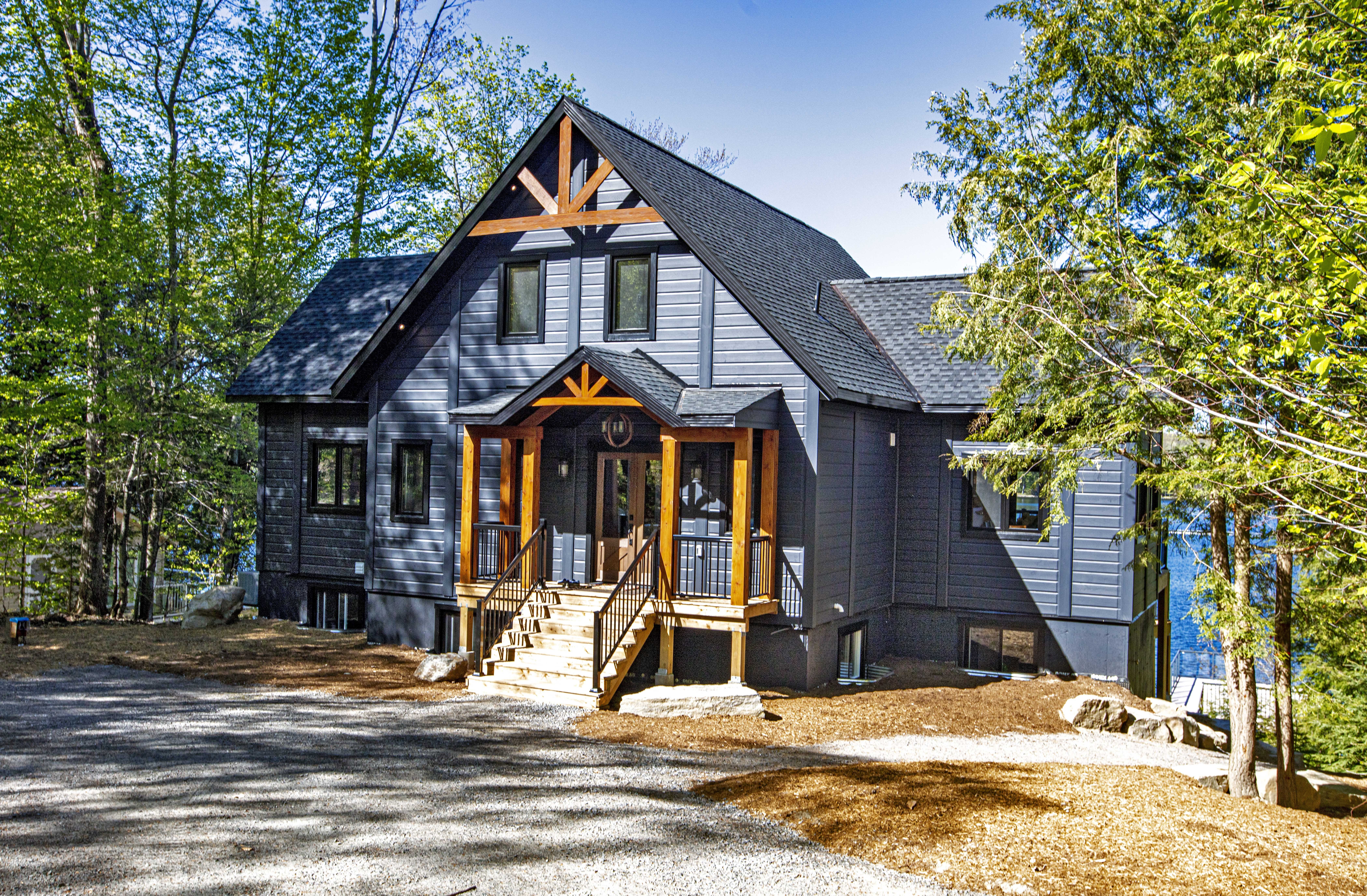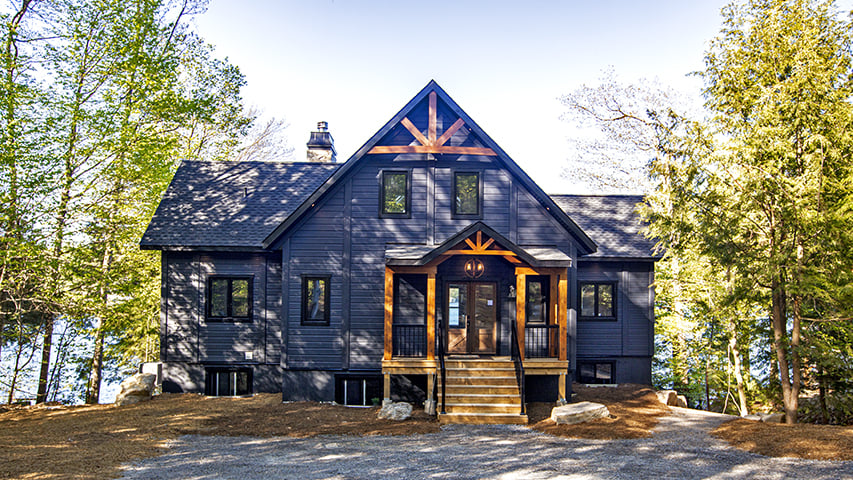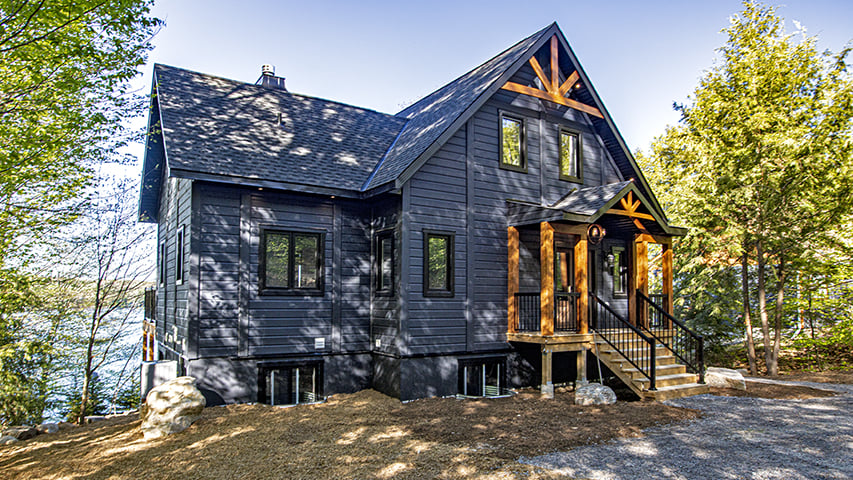 As you can see, this photos hints at what you'll see is a picture perfect location.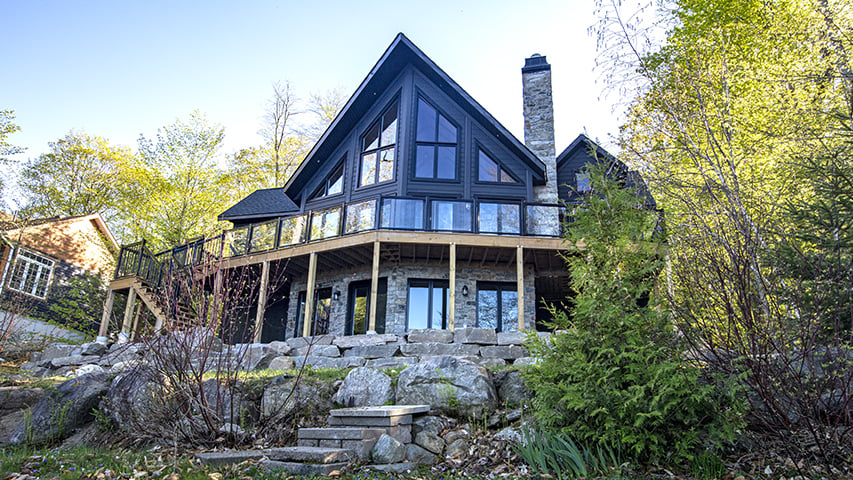 Notice the boat house? Wait for it....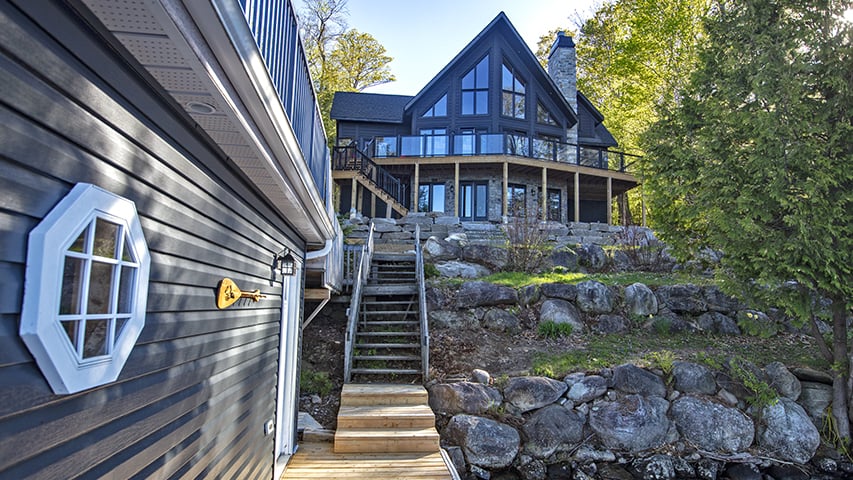 A wall of windows and doors to avoid obscuring the most beautiful of views.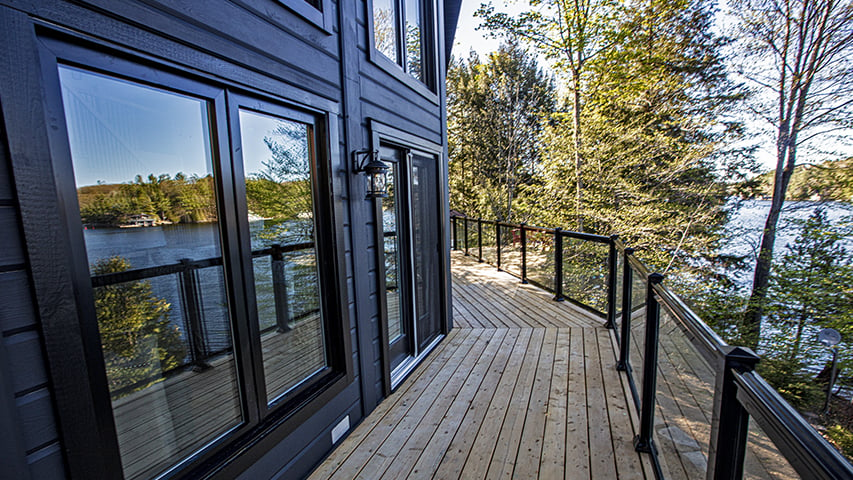 A view from the other side of the home.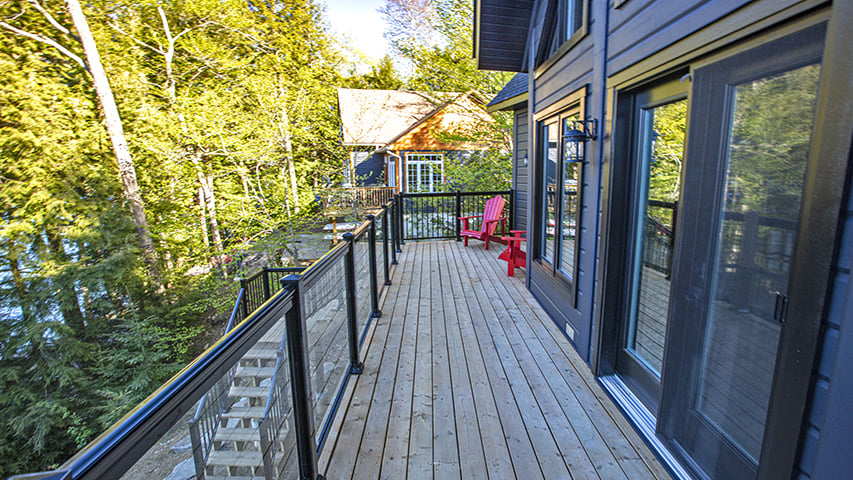 Your first look at this impressive boat house!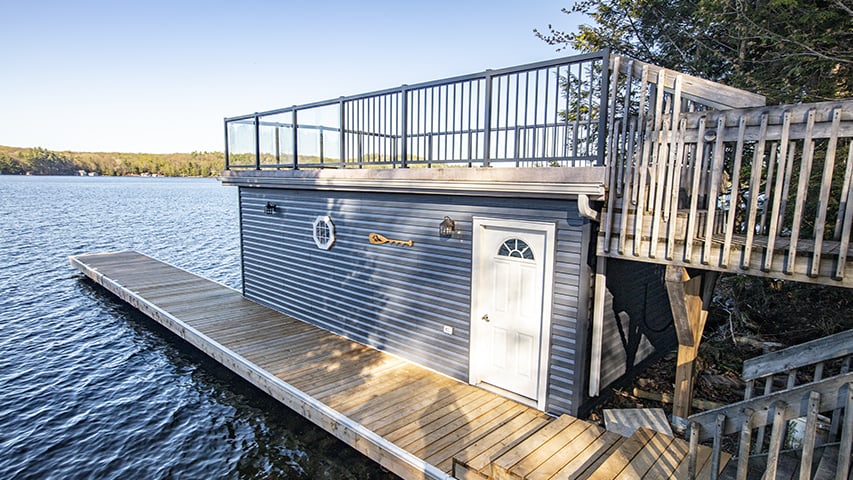 This lakefront home is located in the Muskokas, in Ontario - one of Canada's most prime locations.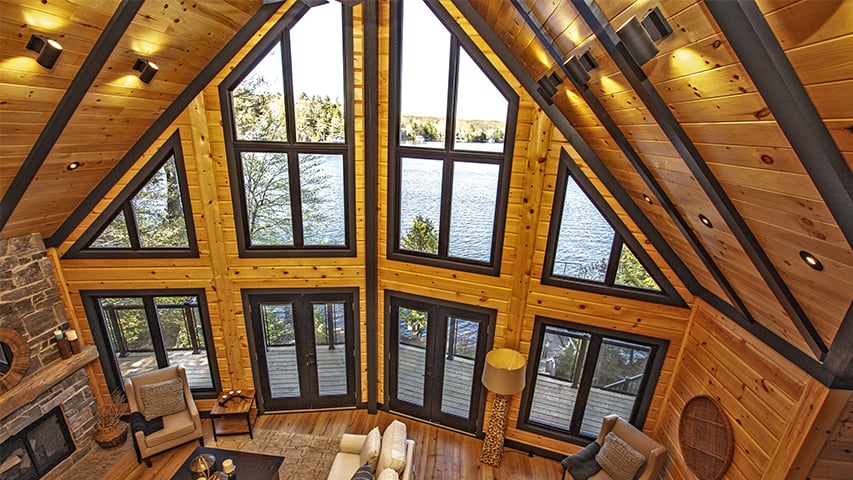 Beams, lights, angular additions, black frames, an open plan....these are just a few of this home's interior attractions.
These railings are a perfect match for this perfect home.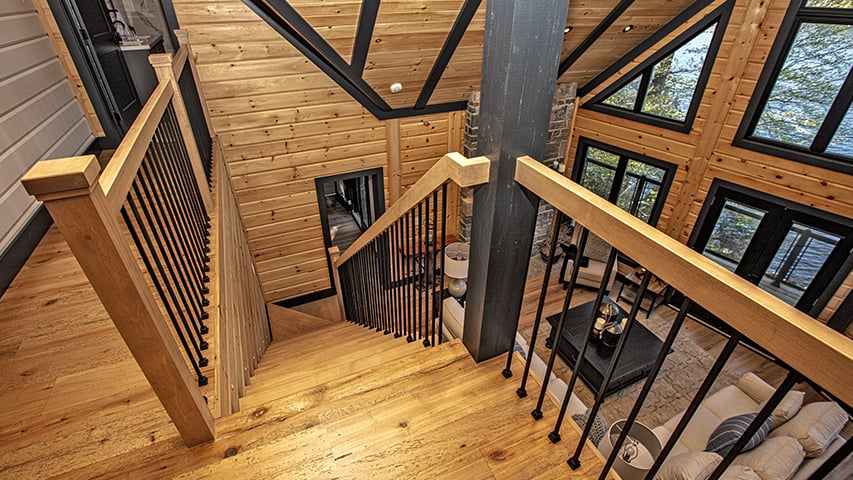 Adding quartz countertops, a gas stove, built in microwave and stainless steel appliances along with a darker color set of cabinets completes this lakefront kitchen.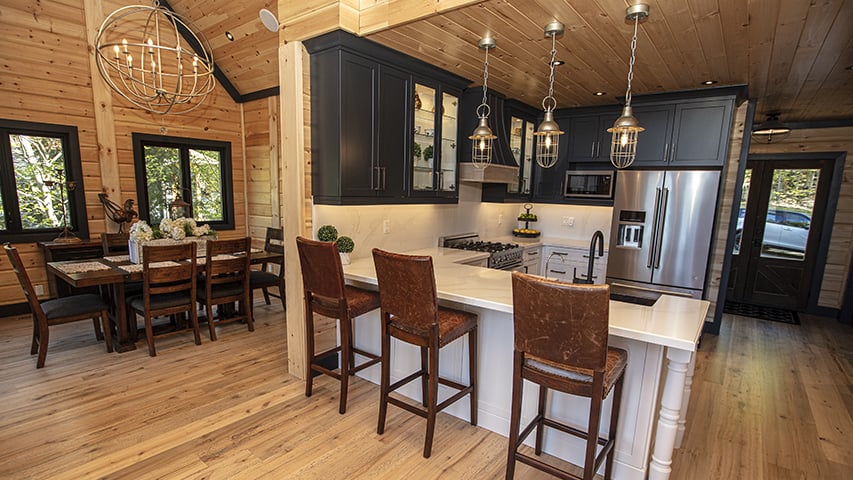 Right around the corner, surrounding by plenty of oversized windows results in a wonderful dining experience - both for cozy dinners with family or a fun evening with friends.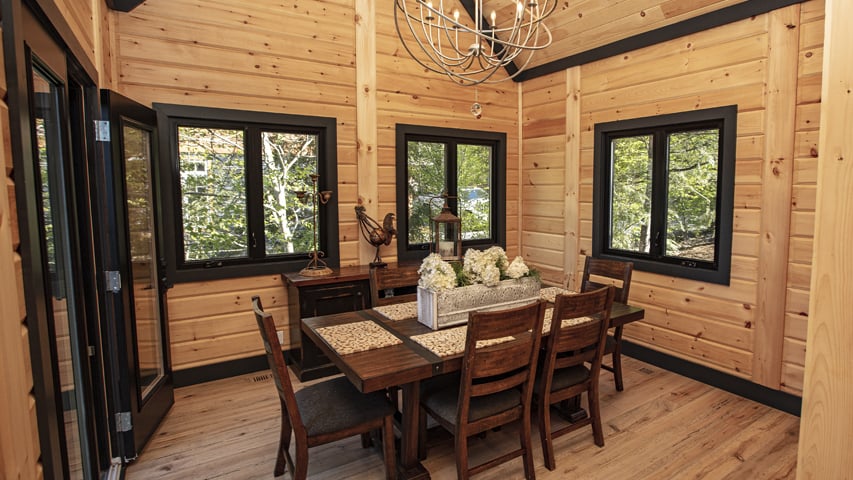 Adding a different color of finish on these interior walls compliments this bedroom (also note: a bedroom with a view!)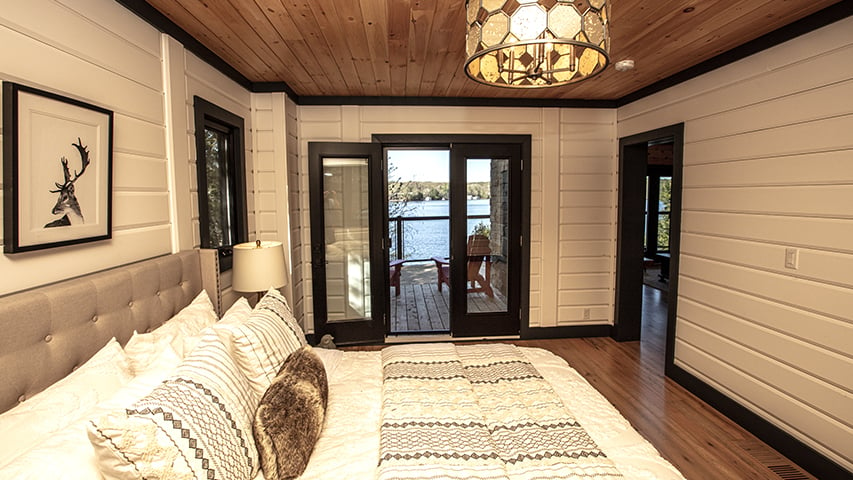 Never can you go wrong when you use loft space and turn it into extra bedrooms - the more visitors - the merrier!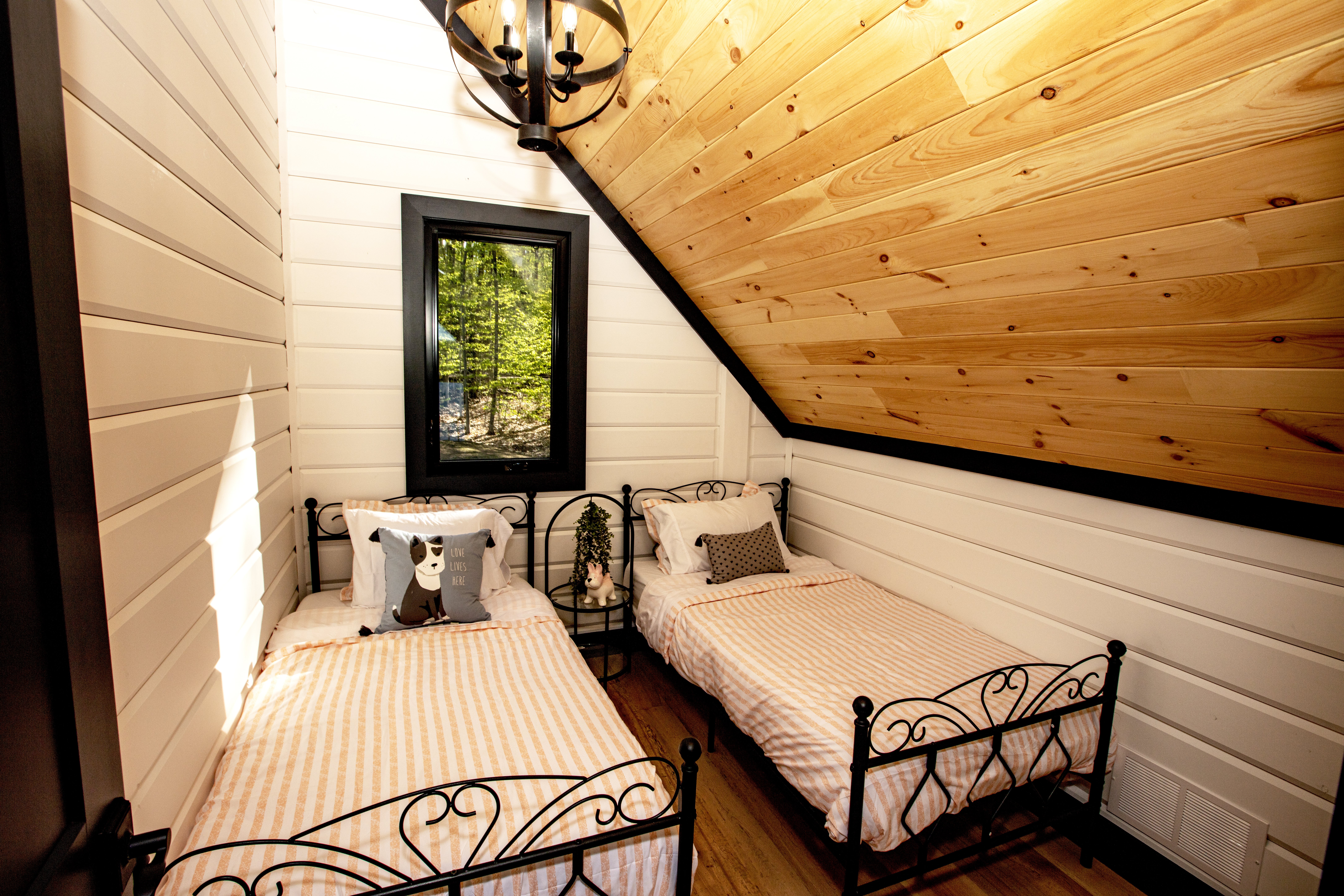 An accent wall in the loft sitting area with the dark beams? Stunning.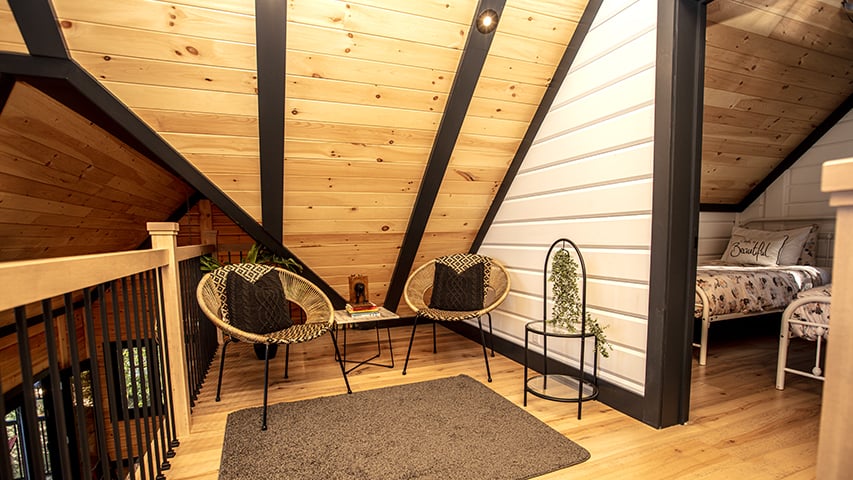 Heading back to the kitchen for a second, you can get a better look inside the chef's corner!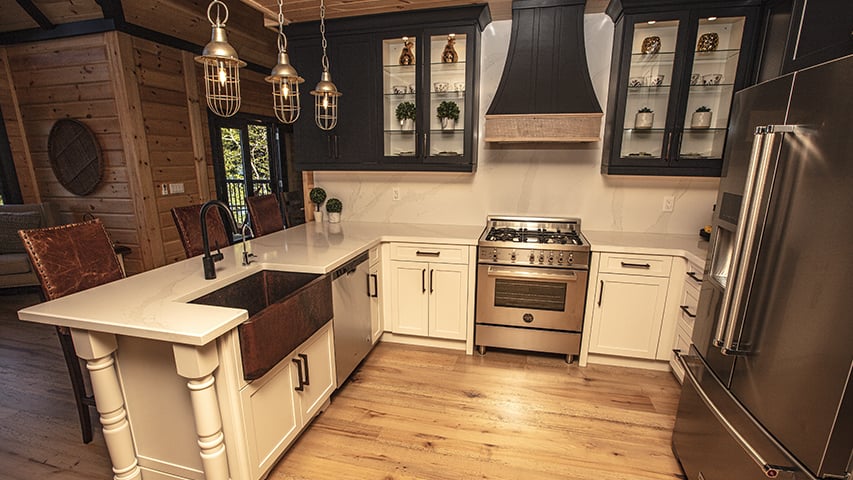 And another look at the other side of the dining room.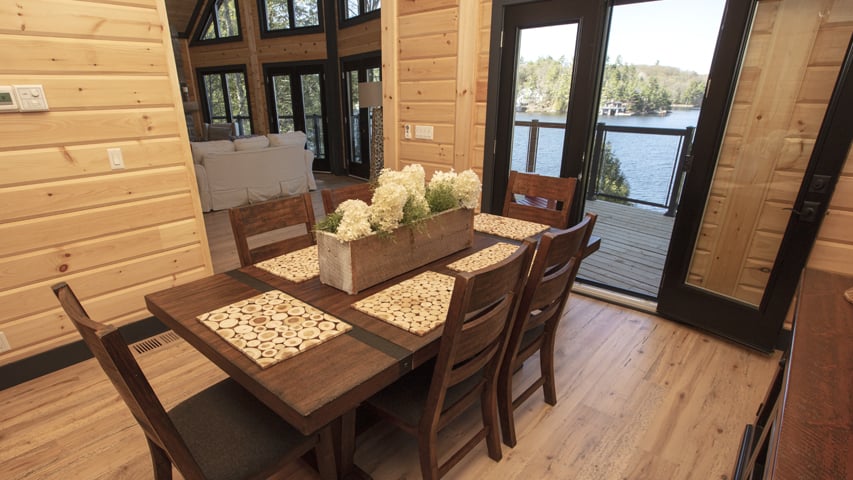 This bathroom! Now, this is Luxury Lakefront Living!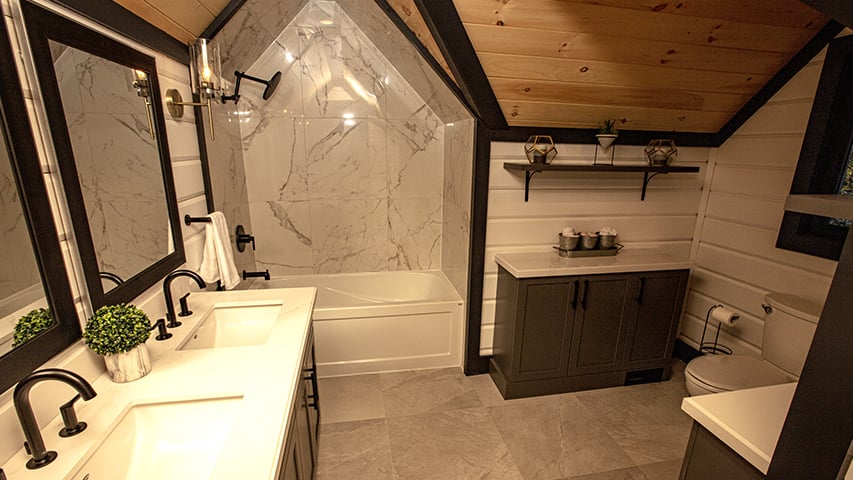 More bedrooms in the loft!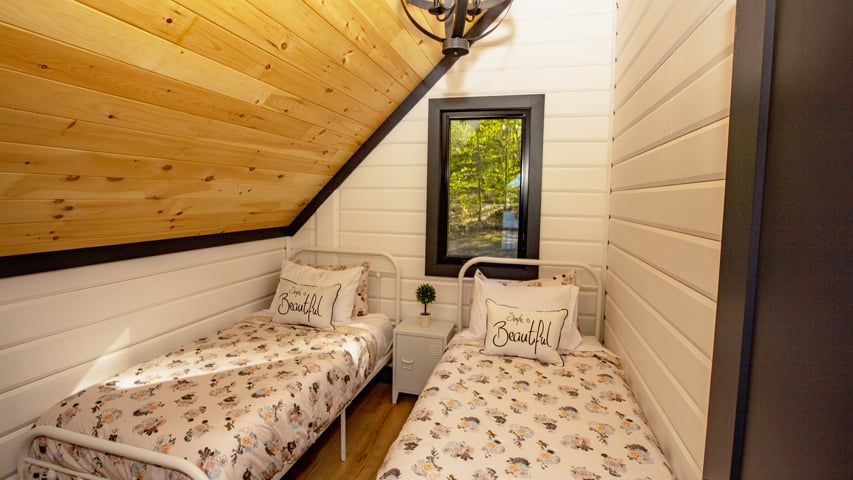 Walk out basements provide all the extra living space you need....without compromising the view. This is a good example of exactly that.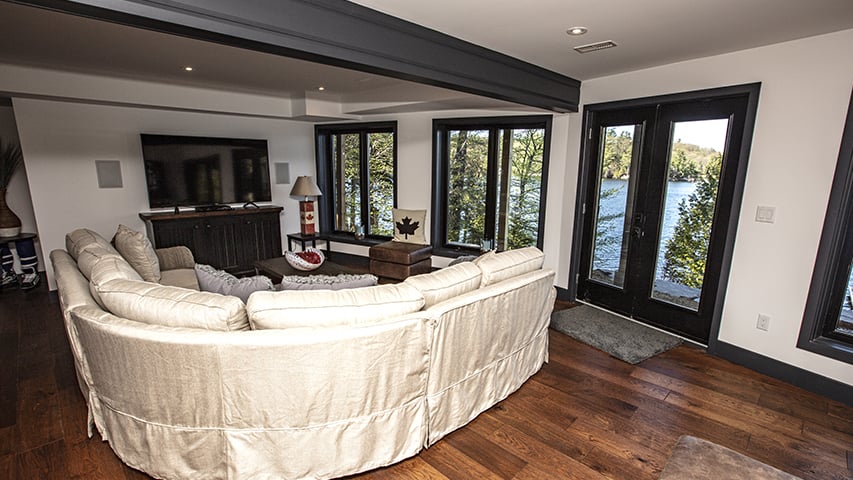 And another bedroom...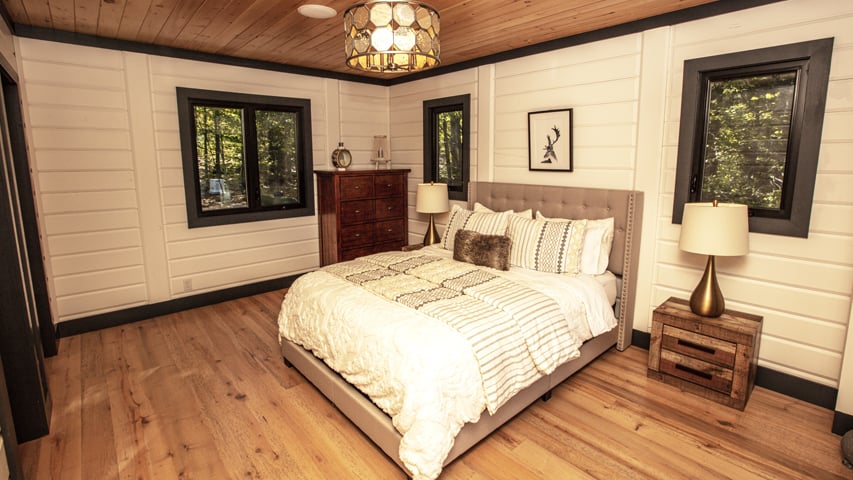 And here are another of couple of bedrooms in the basement of this custom beauty....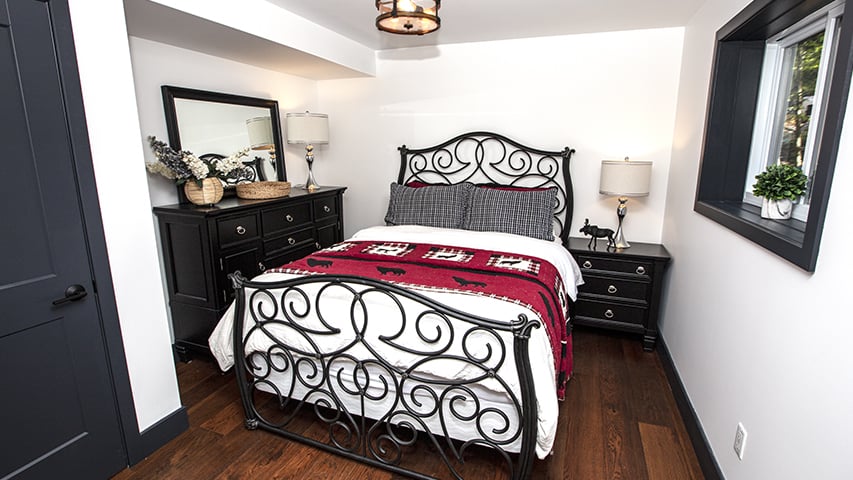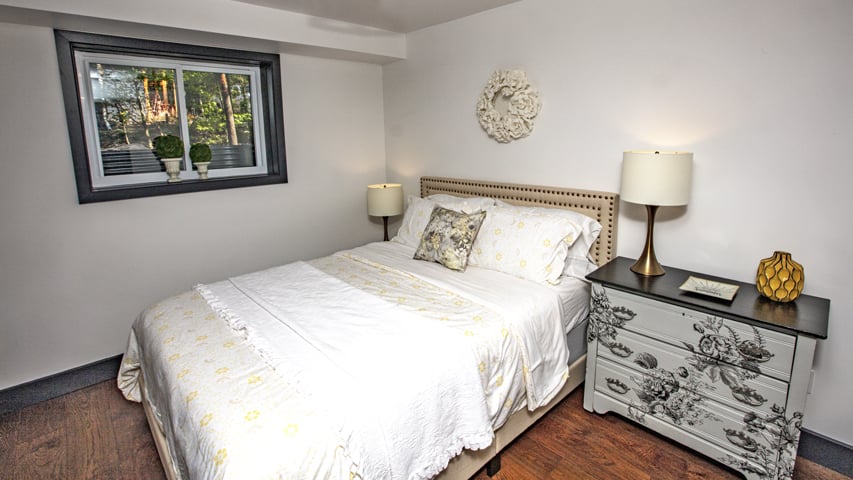 As mentioned before, this is a Timber Block turnkey home. Turnkey options such as this one are available in select locations. Fill out the form below and we will have a Timber Block Home Consultant get in touch to let you know if this may be an option for your home building project.
Stay posted to the Timber Block Blog, as we talk to the Timber Block team involved in this project in the coming days! You can also get updates on any of Timber Block social sites: You can:
* Like Timber Block on Facebook
* Follow Timber Block on Instagram
* Follow Timber Block on Twitter
* Join Timber Block on LinkedIn
* See more photos of Timber Block on Houzz
* Never miss on update with Timber Block on Pinterest
* Get a better idea of Timber Block, by watching videos on our YouTube channel
More about Timber Block
Timber Block is backed by dozens of years of construction history. Designing and building homes all over Canada and the USA, Timber Block's innovative, award-winning and patented technology has made Timber Block a top choice for today's homeowners and builders. On top of Timber Block's high quality design and construction, all Timber Block homes can be built anywhere - location and terrain, the walls are installed in hours, R-30 is standard with R-36 available, all have a 15 Year Finish on Warranty and all are Holmes Approved.
Timber Block's partnership with the very well known and respected Mike Holmes emphasizes Timber Block's commitment to its homeowners and partners, and we are proud to have implemented the Mike Holmes Inspection Program.
To find out more about Timber Block - our technology, our team, our Mike Holmes partnership, turnkey options and more, contact a Home Consultant today or visit us at a location near you.