One of Timber Block's newest, most unique home designs has been named Best Home Design for the month of April, 2018.
Everything about the Contemporary Sanford home is outstanding. The exterior of this design is nothing short of spectacular, thanks to its clever architecture. (Talk about curb appeal!) Staying true to what defines "Contemporary", the slanted roof and floor to ceiling windows are just the start. Scroll down to see inside.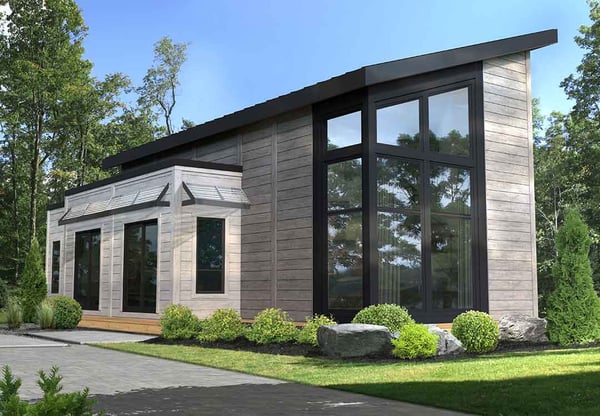 Stepping into the Sanford is somehow just as amazing, as the interior is just as stunning as the outside. Those oversized windows lets in so much natural light that no matter where you are in the home, you will be certain to get the ultimate view. The Sanford is just 1100 square feet and one bedroom. The loft is huge, and is open to to below. The kitchen is substantial, and opens to the living room. It literally manages to be cozy and comfortable to modern and sleek, all at the same time. See it for yourself, you can download the Sanford model today.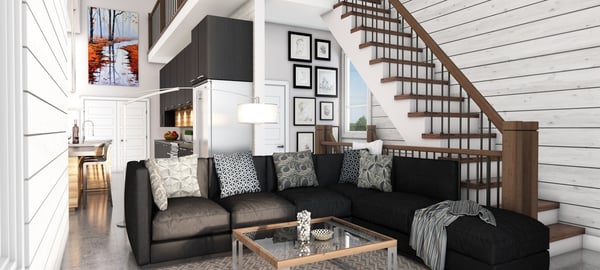 Just like any of Timber Block's models, the Sanford can be customized, will include R-30 wall insulation (R-36 is available), can be built anywhere, with wall assembly in just hours, and dry-in time within days. Highly energy efficient, ecological with Zero ODS, and customer service that is unbeatable in the industry. Hear (and see!) what other Timber Block homeowners have to say about their journey to their dream home. Like and Follow Timber Block on Facebook.
Want to visit us in person? Contact a Timber Block Home Consultant today, or visit a Timber Block Model Home near you.