The design team at Timber Block Engineered Homes has done it again, and has created a home with oustanding architectural appeal - this time in a "smaller" fashion.
We are very proud to reveal our latest addition to our Contemporary Series: The Vista.
The Vista model is a Tiny House, that includes all the charming characteristics of a "tiny home" without leaving out any of the features that makes a Contemporary Home, contemporary.
Here's a good look at the front of this charming model: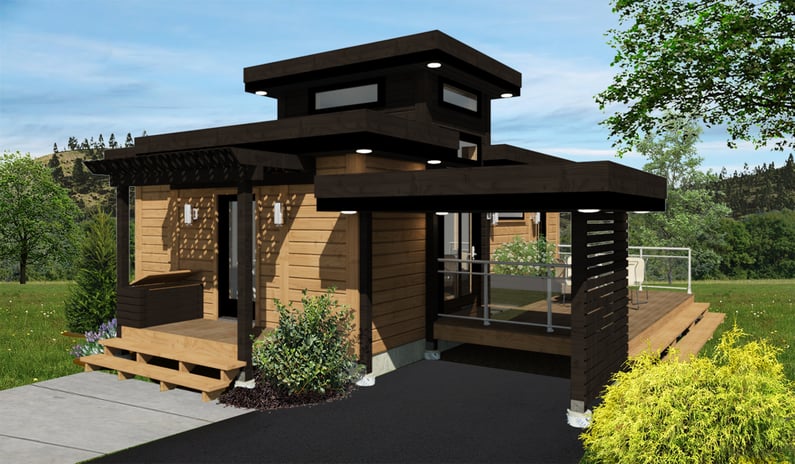 The Vista is just over 500 square feet (553 to be exact!) and has everything you need to enjoy life. The floor plan is cleverly designed to include a spacious living area, full kitchen and 2 full bedrooms and a bath. A darling carport is part of the design, not only for convenience, but it truly is aesthetically pleasing.
Part of contemporary living is "bringing the outside in", and outdoor living space. See the side view below...the open living and dining room can have sliding doors, opening to a porch with plenty of space to enjoy a peaceful morning, day or evening.
The Vista is a perfect blend of the stylish, trendy living of a Tiny House and modern, contemporary style.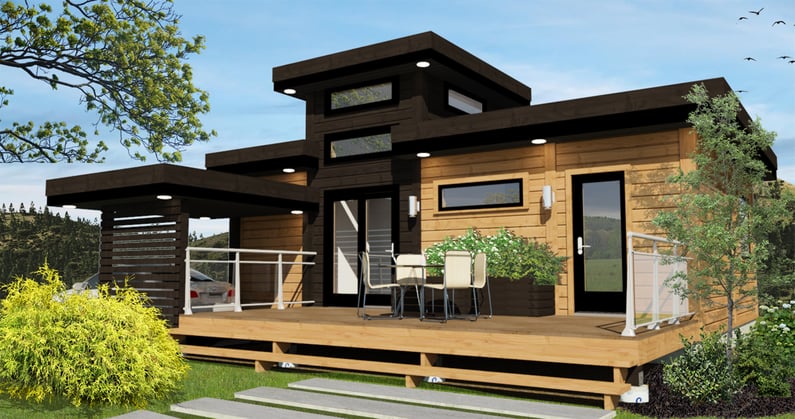 Timber Block is proud to be able to build a home that's perfect for you, without ever sacrificing the quality or beauty of an engineered wood home. Whether your home is large and grandiose, or cozy and tiny, your home is built with the patented technology that has made Timber Block one of the top manufacturer of engineered wood homes in Canada and the USA.
To download the complete Vista floor plan, click below.
Even though it's a smaller home, like all Timber Block homes, the Vista can be modified to suit you. If you have questions about this home, our series, processes and procedures, locations, upcoming events, and more, our experts are always ready to help. CLICK HERE to contact us.
Never miss anything new at Timber Block! Follow us on your favorite social media site. Find us on Facebook, Twitter, LinkedIn, Instagram, Pinterest, Houzz, Google Plus and more.